How To Memorize Scripture
---
Studies
Based on Colosians 3:16
"Let The Word Of Christ Dwell In You Richly In All Wisdom; Teaching And Admonishing One Another In Psalms And Hymns And Spiritual Songs, Singing with Grace In Your Hearts To The Lord."
Copyright Exo. 20:15
Jerome Monsen [email protected]
A First Word
I have been in two Scripture memory programs now and, thanks to Citadel Bible College, I am currently in this one. Occasionally, in normal conversation the subject of Bible Memory comes up, and I hear the person say that they wish they had a memory program. Immediately guilt stricken, I promise that I would write this manual.
I create this document in honor of Citadel Bible College, and I make special mention of Mr. Willoughby and Mr. Austin, who were, I believe, largely responsible for the Bible memory occurring at Citadel. It is to be noted that I learned of this program there and what I say in this document will, not by coincidence, resemble the system found in the Citadel Handbook.
Reasons for Memorizing God's Word
"This book of the law shall not depart out of thy mouth; but thou shalt meditate therein day and night, that thou mayest observe to do according to all that is written therein: for then thou shalt make thy way prosperous, and then thou shalt have good success." (#Jos 1:8)
"O how love I thy law! it is my meditation all the day. Thou through thy commandments hast made me wiser than mine enemies: for they are ever with me. I have more understanding than all my teachers: for thy testimonies are my meditation. I understand more than the ancients, because I keep thy precepts." (#Ps 119:97-100)
"Thy word have I hid in mine heart, that I might not sin against thee." (#Psalms 119:11)
Strictly speaking Bible memory is not a Biblical injunction. God's Word was hid in David's heart so that it became the very fabric of his life, it permeated his ups and downs and ins and outs, David was a man after God's own heart, Selah!. Weave your life from its threads, take God's Word to heart. In his Treasury of David, Spurgeon says, "All that he had of the word written, and all that had been revealed to him by the voice of God, --all, without exception, he had stored away in his affections, ..." Included in the Treasury is an explanatory note by John Stephens, "When young men only read the letter of the Book, the word of promise and instruction is deprived of much of its power. Neither will the laying of it up in the mere memory avail. The word must be known and prized, and laid up in the heart; it must occupy the affection as well as the understanding; the whole mind requires to be impregnated with the word of God. Revealed things require to be seen. Then the word of God in the heart--the threatenings, the promises, the excellencies of God's word--and God himself realized, the young man would be inwardly fortified; the understanding enlightened, conscience quickened he would not sin against his God."
"Let the Word of Christ dwell in you richly, " We can find many Biblical imperatives for meditation. There are two Hebrew words and two Greek words that are translated meditation. A original language search for these words show that they are often translated with words such as imagine, take care, mourn, speak, imagine, study, mutter, utter, roaring, sore, talk, complain, pray, commune, muse, declare.
I wish to encourage you to ceaselessly meditate (talk to yourself) on God's Word. Perhaps this can be done without memorization but not without effort and discipline. To that end I provide this tool and encourage you to memorize.
The Key To a Program for Memorizing God's Word
Any memory program's success is based on review. To do this we need a system of storage and retrieval to help us remember which verses to review and when.
How To Setup The System
You will need 3x5 note cards and a box to neatly hold them. Make section dividers for the box according to the outline below by cutting some 3x5 cards to make them three and one half inches long. Stand them on end and write the subsection titles across the top. Get a different color highlighter (or use a different color pen) for each major section (5 Newest, Weekly, Bi-Weekly, Next, Empty Cards). This way you can quickly identify the sections. Stand the dividers all to one side in your box, for the purpose of this manual lets say the left side. Put one blank card in each section.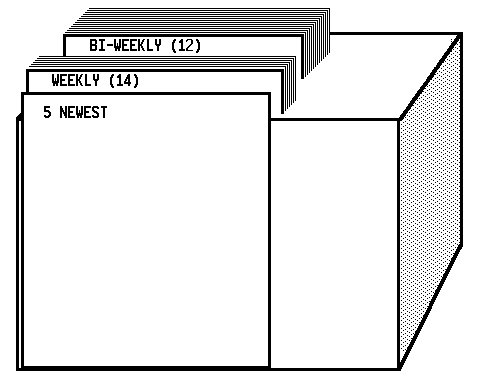 Here is an outline of the sections: The Five Newest 1st weekly 2nd weekly 3rd weekly 4th weekly 5th weekly 6th weekly 7th weekly 1st bi-weekly
14th i-weekly Next
Empty Cards
See Picture of Cards
Now let's fill in the gaps.
How to Choose Verses
Now that you have a place to store your verse cards, what verses shall you memorize? One option is getting the Citadel verse list from me or someone else doing this system. You may write to me at the address at the end of this document and be sure I get your return address. There are 270 verse cards currently and they will provide you with a well rounded knowledge of frequently used verses.
A second option, and this is what you will need to do if your list grows larger than mine, is to choose your own. I suggest using verses that God applies to your life during worship, Bible studies, or personal times with Him. If you're getting ready for witnessing, you might memorize these verses: (#Ro 3:23); (#Ro 6:23); (#Heb 9:27); (#Ro 5:8); (#Eph 2:8-9); (#Joh 1:12); (#Re 3:20); (#1Jo 5:11-12). For Prayer Guidance: (#Col 1:9-12). For Quiet Time: (#Ps 118:24) (check context); (#Ps 3:5); (#Ps 119:18); (#Pr 20:24); (#Ps 119:9); (#Joh 5:39).
How to Memorize Verses
The Card. Now that you know which verse to memorize, let's make a 3x5 card for it. Include a verse number on the card so that if they all get spilled they can be easily reorganized. Since references are a little harder to remember put it in the top left corner and again right after the text (on the line directly below, if the text ends too close to the edge of the card.) The top left corner position is also handy for "fanning" the cards so that only the reference is seen. Leave three blank lines below the reference and then start the text, so the reference is on line one and the text starts on line five. This will ensure seeing only the reference when the cards are fanned out. Why do they need to be fanned out?, see the review tips below.
Jeremiah 17:9 Salvation
"The heart is deceitful above all things, and desperately wicked: who can know it?" (#Jer 17:9)
The Process
Make your memory familiar with the verse by reading it through ten times in this way: reference, text, reference.
If the verse is too large to remember all at once, choose a phrase or a couple of phrases, as much as you can remember at once, and go over that until you are sure you've got it.
Repeat step 2 with the second section as large as you can remember.
Add (all) the sections together and make sure you've got it down.
Repeat the above steps until you've got all the text memorized. Continue repeating these 5 steps to memorize a whole verse or passage.
Adding the Verse Card To The System
Once you have the verse memorized you can add it to your storage system for organized review. Your first five cards will be put in the The Five Newest section, newest card in the front. Be sure to keep the blank card in the front of every section. This is to keep oneself from seeing the text of the verse before you have a chance to quote it up from memory. When you get to card number six, it will indeed go in the front of the The Five Newest (always keeping the blank card in front) and card number one will jump to the beginning of the 1st weekly section. Card seven likewise, pushing card two into the beginning of the 1st weekly section. As each section fills up the card in the back will jump into the next section. The Weekly sections are "full" when there are 14 cards in them, and the Bi-weekly sections are "full" when they have 12. You may set whatever definition of "full" you wish, but I would suggest using my numbers until you understand the system. The numbers I have chosen makes the system sufficient to hold all of the Citadel verses (plus a few, necessarily).
Using The System-The Review Process
Each day review the "next" verse, The Five Newest, a Weekly section, and a Bi-weekly section. With all your dividers standing up to one side in the cardfile move the dividers for the first Weekly section and the first Bi-weekly section to the other (right) side. Using my numbers for "full" you will review 32 cards each day. Is that so hard?
1. The Next Verse. If this verse is not yet memorized just read it ten times as part of the review process. If it is memorized make sure you only see the reference, quote it and then read it to make sure that you got right. I have delayed adding my cards to my system so as to make sure they are more firmly memorized.
2. The Five Newest. Now take this section out of the cardfile, keeping the blank card in the front. Slide the back card up just enough to see the reference. Read the reference, quote the verse and give the reference then read the read verse to make sure you have got it right. Repeat this for the remaining 4 verses.
3 & 4. Weekly & Bi-weekly. Review these in the same manner as you did The Five Newest.
5. Now, move the dividers for the Weekly & Bi-weekly sections you just reviewed back to the left side and move the dividers for the next sections to the right. If it was the seventh Weekly or 14th Bi-weekly, then go back to the first Weekly or Bi-weekly.
Tips For Review
"Fanning". Instead of just sliding one card so I can see it's reference, I slide them all so I can see all their references and set them down where I can see them while I shave or do dishes or iron shirts, etc. When I have quoted them all then I read them all.
Tips For Easier Memorization
Memorize at night, this will get it going through your head all night. If you're are not a "night person" just read it several times.
Quote it again right away in the morning.
If you are getting one verse card confused with another because they have similar references, try adding the previous verse to get your memory going in the right direction. For example if you have trouble with 1 Corinthians 1:3-4 (I do), add 1 Corinthians 1:2 so that it becomes 1 Corinthians 1:2-4.
When you are first reading through a new memory verse pick out the action in the verse. This will give you better understanding and you will see the flow of the verse.
Dealing with passages
Passages are very suitable for meditation. They provide, within themselves, an extended dialogue and it is a little easier to keep a list of memorized passages in your head so when you have a blank time in your day (waiting in line anywhere, exercising, driving) you may review them.
Choosing and Memorizing
Generally keep your passage size in the 10-15 verse range, memorize consecutive sections for larger passages. Keeping them small helps speed up both the memorizing and reviewing processes. Read your passage twice a day. After you have memorized part of your passage, quote what you know and then read the entire passage twice a day. When you have the whole passage memorized (write it out to check on yourself), then continue quoting and reading once a day for a month.
Reviewing
When you come upon blank times in your day (as mentioned above), just quote the most recently memorized passage and then the next most recent, etc. For this reason I memorized Titus 3 first and then 2, then 1.
---
Permission is granted to copy for others this document, complete and unaltered. That we may know Him.
Jerome Monsen, [email protected]