How to respond to trials as a Church
Paul Thompson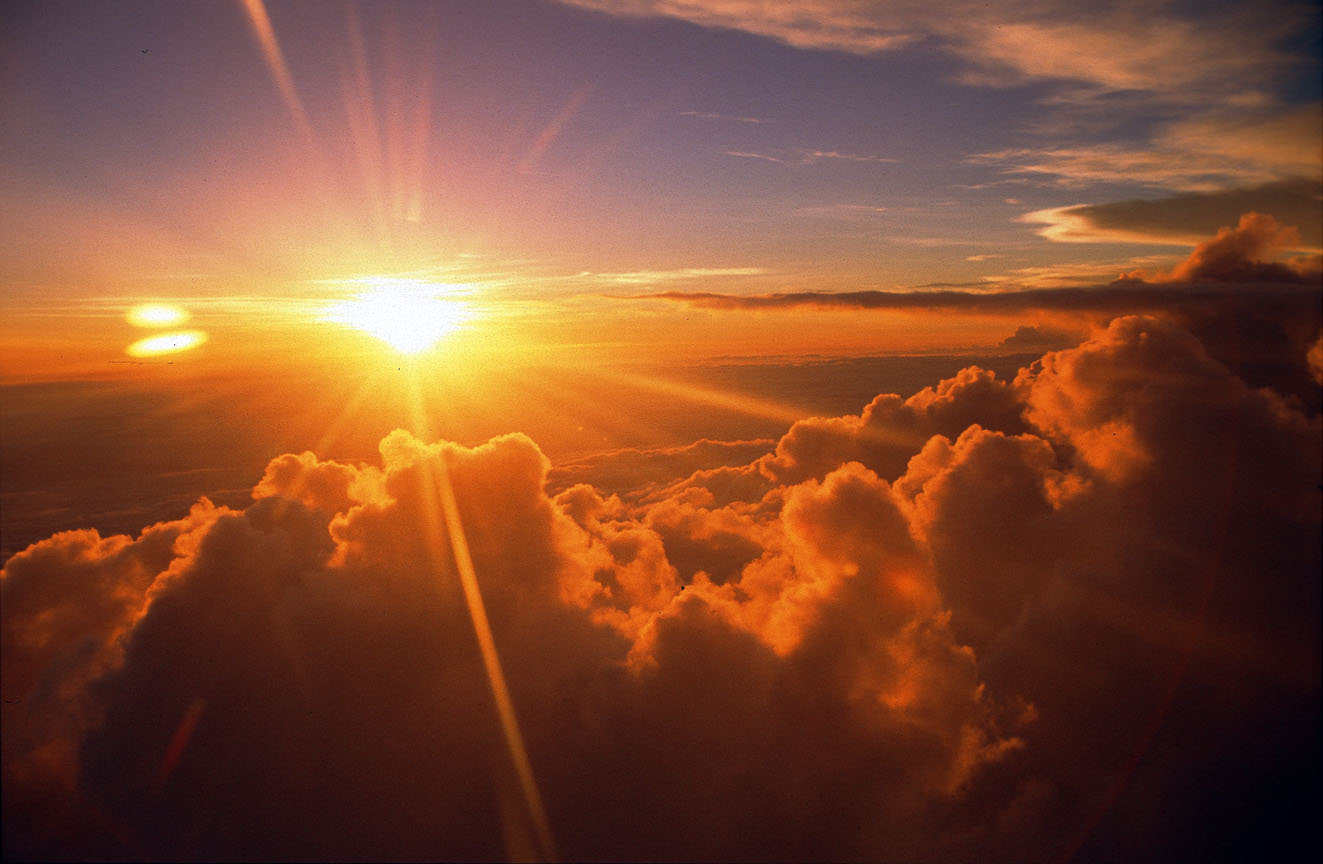 Bible Reading: Revelation 21
Let's Pray
Our God and Father, we ask that you would be pleased to give us understanding into your word. That your Holy Spirit would make it living and transforming in our lives. We pray this in the name of our risen Lord Jesus Christ. Amen
Today I want to ask the question  "How are you to respond to trials as a Church?  
I want to suggest that the purpose of  Revelation 21 is that we look through our trials to being part of the Church triumphant in Heaven.  This is what the aged apostle John wanted his suffering readers to do and  surely this is what God the Holy Spirit wants you to do many centuries later as you suffer and struggle as a Church of the risen Lord Jesus Christ. 
That this vision will give you the motivation to be in the language of Revelation  over comers and therefore an overcoming church as you battle the world, the flesh and the Devil and the inevitable trials that flow from this.
The theme of the revelation of Jesus Christ to his servants in the seven churches and therefore all churches in every age is the glorious victory of the Risen conquering Christ over Satan and His enemies.  Here we have the sub theme of the Church triumphant in heaven over her enemies, namely the world, the flesh and the Devil.
It's crucial in seeking to understand the message of Revelation that it has more Old Testament quotations than any other book of the New Testament. Therefore the key to unlocking it's meaning is to consider those Old Testament references in there original settings and context. Once we have done this light begins to shine on the symbolic language of our passage and we begin to see something of the tremendous joy we can have in the midst of our trials as a Church.
By what authority can you believe you will be part of the church triumphant in heaven?
Christ says by the truth of His words – on that authority you can believe what He promises for you His Church morning;  
 "for these words are trustworthy and true."
Look at verse 5 b 
The amplified Bible says ;" these sayings are faithful – accurate, incorruptible and trustworthy – true and genuine. "
The one who said; "I am the Truth" says my revelation to you is; accurate, true, genuine. Why? "Because as the personification of truth I am giving you words to believe and hang onto in the midst of your fiery  trials as a Church.
How are you to respond to trials as a Church?
Firstly See through your trials to God's renewed creation v 1, 4 5a
Why does God renew His creation?  
Look with me at verse 1  
"Then I saw a new heaven and a new earth, for the first heaven and the first earth had passed away, "
The word heaven means not just the sky but the men of the Old Testament came to see that if God is greater than the earth he made He must dwell beyond the sky. So God says to Isaiah the prophet; 1.
"Heaven is my throne, and the earth is my footstool." Isa
So heaven is the place "out there" where God dwells
John is draws on Isaiah understanding of regeneration  "For behold, I create new heavens and a new earth, and the former things shall not be remembered or come into mind. Isa 65:17  
But why a vision of a renewed heavens and earth? We recall that after God made this world He said,
"Behold, it was very good." Gen 1: 31b   
But the fall has effected all of creation, this world produces thorns and thistles, there are droughts, earthquakes and volcanic eruptions. 
Peter tells us that the,
"Earth is stored up for fire until the day of judgment and destruction of the ungodly.
Some believe the world will be destroyed by fire before God renews it. But notice what he goes on to say;
"But according to his promise we are waiting for new heavens and a new earth in which righteousness dwells."  2 Pe 3:13 
God is not just renewing our souls and our bodies, here we see he will renew the environment in which we live, that's why it's a new earth. It's restored to being "very good" again. It shouldn't surprise then when in chapter 22 John sees the Church in heaven worshiping God and the Lamb in a restored garden of Eden.
So John see's in his vision this world  renewed or regenerated, if you like it's born again, or to use a popular word; recycled
But there is more, look at the next phrase  of verse one; "And the sea was no more." 
Isaiah tells us  "But the wicked are like the tossing sea; for it cannot be quiet, and its waters toss up mire and dirt.." Isaiah 57:2
Here the sea with it's winds, storms and hurricanes is symbolic of the minds of evil men full of malice and envy and troubled consciences.  Men in rebellion to God who inevitably bring trouble on their communities.
Therefore Church when you experience troubles from those people who are full of malice and envy and troublers in your community see they will no place in heaven.  It will be a trouble free community, unlike what we so often experience now. But notice there is not just an absence of trouble there is
No more death and emotional pain in heaven
Look with me at verse 4
"He will wipe away every tear from their eyes, and death shall be no more, neither shall there be mourning nor crying nor pain anymore, for the former things have passed away." Rev 21:4  
The whole creation was brought under a curse because of Adam's sin. With this curse can death and with death comes tears, mourning and emotional pain. But in heaven sin doesn't exist therefore death is absent and the tears that naturally come.
Does that mean we minimize people's and pain and tears when they experience loss at losing love ones or friends. Of course not. Rather we are comforted that because of Christ's death and suffering on the cross He has overcome death, taking it's sting away. Therefore in heaven there is a complete absence of death and emotional pain. Another consequence of the fall is reversed so heaven is a place of unspeakable joy where Christ will wipe away our tears.  
Therefore Church look through trials which may lead to tears and mourning, crying and pain to an eternal church service free – free from sadness at losing family members and friends.
Why we ask?
Look at verse 5a, for the answer
And he who was seated on the throne said, "Behold, I am making all things new."
Why will we not experience death and emotional pain in heaven?
Because King Jesus who is seated on His throne is making all things new.  John speaking of Him in His gospel says He is creator
"All things were made through him." John 1:3  
Here John has  a revelation of King Jesus as re creator or regenerator.
So he says firstly to you His Church "Behold, look church through your trials to Heaven; my new material creation, an environment restore like Eden where you will live churching  free of trouble, death and emotional pain. But;
Secondly Church see through your trials to being in God's Heavenly City   v3a, 10
What is this heavenly city?
Notice V3a "And I saw the holy city, new Jerusalem, coming down out of heaven from God,
This is a vision of the church in heaven. Some back ground we help us with the symbolism.  During King David's reign God chose Jerusalem for his holy city.  The name means, "City of Peace." Isaiah calls it the; "Holy City." This is where the temple was build and people came to worship God.  It was natural for John to see that the earthy city was far from perfect so he tells us that He saw the place where God dwells in holiness as the; "New Jerusalem."
Church look through your trials and see yourself as part of the church in heaven.
Brothers and sisters what you are as church in this community is not significant. As you  seek to be holy and at peace with all men and you may be doing this imperfectly but you are reflecting what one day be perfectly happening in heaven as you church with millions of other believers. 
Why is the city from heaven? 
Rev 21:10   And he carried me away in the Spirit to a great, high mountain, and showed me the holy city Jerusalem coming down out of heaven from God,
A contrast may help us here. Remember when humans attempted to create a perfect world when they made the tower of Babel. It begins on earth and tries to reach heaven, but it's a dismal failure. God judges humanity and scatters us into different nations and languages. But  God's city, this new Jerusalem has across it's gates – made in heaven.  God goal is that we no longer be isolated from one another. Sin separates us from each other. God wants us in a perfect community. 
So Church look through the trials of Isolation and see yourself in heaven with all the races, black and white. Because the church on earth should reflect that great vision of having members, 'From every nation, tribe people and languages." Rev 7:9
Thirdly Church see through your trials to God churching with you v3, 8
Therefore we will church with God in Heaven    
Rev 21:3   And I heard a loud voice from the throne saying, "Behold, the dwelling place of God is with man. He will dwell with them, and they will be his people, and God himself will be with them as their God.
Graham Goldsworthy of who I'm indebted too for help here says, and I quote; "This one verse could sum up and contain the entire message of the Bible."
Why does He says that?
The dwelling place of God  was symbolized in the erection of the Tabernacle. It symbolizes how sinful man could approach a Holy unapproachable God.
Moses was given it's exact design. God shall dwell with His people. Jesus is the fulfillment of the tabernacle, he is both tabernacle, and temple priest, altar and sacrifice.
Jesus tabernacles with us through the body of Christ, the Church
Eph 2:21   in whom the whole structure, being joined together, grows into a holy temple in the Lord.
Church you are growing into a  holy temple this morning
He goes on in verse 3 to say says "And they will be His people."  
We love to say our people, our communities, we get emotional because they are family, but what a privilege that God calls us His people, His special possession, his delight, His joy.
Church look through you trials and see you are His people.  
But notice who are not His people and where they go  v8, v27
Rev 21:8   But as for the cowardly, the faithless, the detestable, as for murderers, the sexually immoral, sorcerers, idolaters, and all liars, their portion will be in the lake that burns with fire and sulfur, which is the second death."
Rev 21:27   But nothing unclean will ever enter it, nor anyone who does what is detestable or false, but only those who are written in the Lamb's book of life.
So Church as you see through your trials have compassion on those who are not God people, and love them and do them good and seek to tell them of this heaven they will miss out on
Fourthly Church see through your trials to being Christ's bride in heaven v 2c, 9 
Church notice firstly that you will be adorned as Christ's bride in heaven
And he says in verse 3c of Rev 21 that she is…" prepared as a bride adorned for her husband."
Are you often overwhelmed by past sins when the Devil whispers in your ear;
"You sinned again and you think you're your going to heaven, fat chance.
But as a member of this Church you to will be  "adorned", with the robe of righteousness, and garments of salvation, and the graces of the Spirit, and the bright robes of immortality and glory. You, yes you sinner will be so beautiful for your bride; King Jesus
In the Old Testament Israel is spoken of as God's bride and He as her husband.
The prophet Isaiah says of God's people
"Your maker is your husband." (Isaiah 54:4 ) .
The same metaphor of the church as the bride of Christ is used by the apostle Paul;
Eph 5:23   "For the husband is the head of the wife even as Christ is the head of the church, his body, and is himself its Savior. "
The apostle Paul tells the church at Ephesus that they are the bride of Christ,
John sees in his vision this metaphor for the Church as a present reality. But for us there is the tension of the now but not yet
Church do you sometimes look at yourself and think; we are part of  the bride of Christ but where is the splendor? We often seem to exhibit only spots and wrinkles as a church. Be encouraged  that's all going to change one day
Church notice secondly will be the wife of the Lamb in heaven
In Revelation 19:7  we are told the marriage of the Lamb has come, and his Bride has made herself ready;
If you look at verse 9b of Rev 21 we read
"Come, I will show you the Bride, the wife of the Lamb."
Michael Wilcox in his commentary on Revelation says helpfully and I quote;
" We have passed the bounds of time and space into the regions of eternal light where the eyes of every created being are on the Lamb alone. Yet he is not alone.
There is a radiant stranger whose features as we consider them are familiar. Can it be…? (Pause) 2.
It is "the Bride, the wife of the Lamb."   End quote
Church this is you, this morning, you are the stranger but with spots and blemishes.  But one day the angels in heaven will announce to the groom King Jesus ; " We present  to you a radiant stranger. ___________ Church.
Why will this be? Because now church you are being  "Cleansed by the washing of water and the word," present as church to himself in splendor, without spot or wrinkle or any such
thing, that she might be holy and without blemish. Eph 5:26-27
So finally Church, see through the now of your not very glorious present trials to the glory of the not yet you will be in heaven.
You will be His glorious bride, adorned in holiness, and clothed in the righteousness of your husband the Lord Jesus Christ because He loved you church and died to make you a part of His bride, the church.
Why can we confidently say this? Because the risen Christ our soon coming King says,
Verse 6 " it is done… 
" I am the Alpha and the Omega, the beginning and the end. To the thirsty I will give from the spring of the water of life without payment."
You recall how on the cross Christ cried, "It is finished," meaning His work of redeeming us from sin and death and hell had be accomplished
Now Christ say to you church, "It is done"
This word means to generate or to become
So the risen Christ is saying to you; "I have generated a new material creation where I will live with you. You will be my people free from  trouble, death and emotional pain.  This is heaven. And see yourself making up the heavenly city and being my radiant bride.   
How will you cope with trials as a church? Focus on this revelation from the risen King Jesus. Let it's vision fill your minds and flood your hearts with joy unspeakable and glory as you experience the tension of the now of suffering with the not yet of being in heaven making up the Bride radiant for her groom; the risen Christ.
Amen.
Notes
1. The Gospel & Revelation by Graeme Goldsworthy 
2. I saw heaven open - Michael Wilcox - TBST - Commentary