Why we can live in the wilderness
Paul Thompson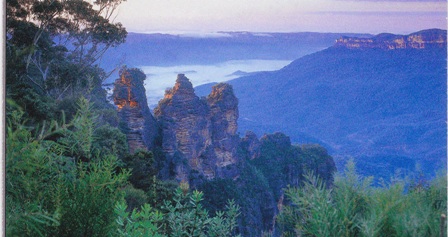 David was in the wilderness, we are told that in the title of this Psalm
 A Psalm of David, when he was in the wilderness of Judah.
He was alone, in a desert place surrounded by his enemies who wanted him dead. He was being persecuted. He was cut off from all help. It probably was very hot during the day and bitterly cold at night and he may have had little food or clothing.
But the thing that pained David more than anything was that he was separated from the tabernacle in Jerusalem. The tabernacle was a place David loved to go to and worship his God. Yes there where many symbols and ceremonies there, the daily sacrifices and prayers and reading of the law. But it was a place where he felt the presence of God and His smile and favour.
But now things have turned in his life and he finds himself in the wilderness both physically and spiritually.
I want to suggest there are two reasons David penned this Psalm. Firstly to record his spiritual experience or journey in the wilderness. But secondly and more importantly to inform us why we to can live in the wilderness when God sends those times into our lives when we feel far away from Him, His presence and Christ.
So David tells us why we can live in the wilderness?  
And he gives us two reasons and our right respond to those two reasons…
1st Reason: Why we can live in the wilderness: Because of God's power & glory
2nd reason: Why we can live in the wilderness: Because of God's mercy, help & satisfaction
3rdly  our right response to these 2 reasons is we commit to worshipping God in Christ in the wilderness.
1. Why can live in the wilderness? Because of God's  power and glory   
We see this in David's desire to see God's glory and power 
V2.   So I have looked for You in the sanctuary, to see Your power and Your glory.
Why does David desires to see God's power and glory? Because He saw it  when He worshipped in the Temple at Jerusalem. Obviously He doesn't desire to see God literally because he knows and scripture tells us cannot see God and live. No he sees His power and glory by faith in the temple sacrifices and offerings. The spotless lamb slaughtered, the blood sprinkled on the mercy seat above the broken law of God.
But we recall how Moses desired to see God's glory. "Show me your glory." – he commanded God and God granted Him to see his back as He hid himself in the cleft of the rock.
Here is how we must live in light of it
When we feel in the wilderness we should live like David desiring to see God's power and glory
Why does he do that – because it's transforming – there's no power or glory in his circumstances but in God there is true power and real glory
But if we are honest with God, ourselves and others there are times when we look for power – over our circumstances or over others – we look at the power that comes from money or material possessions or position or sex and we desire to look of these. And we want glory from them rather than gazing on God the glory.
But isn't there is One who lived with his eye always on God's power and glory? – yes,  our Lord Jesus Christ
We see in the gospels Jesus glory displayed in his power over Satan, sickness, death and the power He has to forgive sins.
Now as we maybe feel in the wilderness lets look by faith at Christ's power and glory as the apostle prayed for the Ephesians  Ch 1:18-20
That the eyes of your understanding being enlightened; that ye may know what is the hope of his calling, and what the riches of the glory of his inheritance in the saints,  And what is the exceeding greatness of his power to us-ward who believe, according to the working of his mighty power, Which he wrought in Christ, when he raised him from the dead, and set him at his own right hand in the heavenly places,
What a pray when we are in the wilderness. That our minds would be flooded with the hope that the riches of His glory – all that the gospel is might encourage us and that we might understand that His resurrection power opens my eyes to believe, to come, to cling and trust my all to Him as I live for Him in this time in the wilderness.
What did the apostle says to the Corthinians?
2 Cor 3:18   But we all, with open face beholding as in a glass the glory of the Lord, are changed into the same image from glory to glory, even as by the Spirit of the Lord.
Friends we are changed little by little into the image of Christ as we by faith do as the disciples said they did,
"And the Word became flesh and we behold His glory, the glory as of the only begotten of the Father, full of grace and truth." John 1:14
So I exhort you as I do myself to behold His glory as we feed daily on his word and fellowship with one another and point each other to Christ as we go through this wilderness time as His people.
Remember the words of the Hymn?
Turn your eyes upon Jesus look full in His wonderful face and the things of earth will grow strangely dim in the light of His glory and grace.
The things of earth, of being in the wilderness for a while - will grow strangely dim in the light of His glory and grace.
So we can worship God in the wilderness because of His power that transforms us as we see Christ's power and glory
2ndly Why can we live in the wilderness? 
Because of 3 truths – 1stly Because God is merciful – 2ndly Because He helps me – 3rdly Because He satisfies me 
1stly We can live in the wilderness because God is merciful
Look at
V3b Because Your lovingkindness is better than life,
David says back to God a truth about Himself which is so basic, so foundational to our faith and the gospel yet it is a truth about God we so often forget. The word loving kindness can also be translated mercy and it speaks of God's covenant love or mercy towards His people. His mercy is his compassion and pity on us because we are sinners, deserving of his justice.
 Every day the enormity of God's mercy towards us should overwhelm us, that this God has pity and compassion on me in all my circumstances. Shouldn't I  live in light of the fact that God is constantly merciful to me when I don't deserve His mercy. Doesn't David also say,
"Your mercies are new every morning.
 What a glorious truth to comfort us at this time
But  often we are so preoccupied with or our troubles and struggles we simply forget God is merciful – merciful to me constantly, daily.
 But when we forget, there is one who is merciful and that's our Lord Jesus Christ. He is merciful because He is the friend of sinners, He healed the sick, raised the death, forgave sinners, drove out demons – why? To demonstrate beyond any doubt that He is the God of mercy come in the flesh to have pity and compassion on us.
Hebrews_2:17  Wherefore in all things it behoved him to be made like unto his brethren, that he might be a merciful and faithful high priest in things pertaining to God, to make reconciliation for the sins of the people.
This is a truth, a teaching that lives at the heart of the gospel – if God has been so merciful to me in my sin and misery that He sent Christ to die in my place  then  that mercy never should constantly be transforming me and energizing me so I live and feed of mercy daily. And how do we obtain this mercy. Listen to;
Hebrews_4:16  Let us therefore come boldly unto the throne of grace, that we may obtain mercy, and find grace to help in time of need.
So David prays back to God who He is – merciful and as we pray we to will obtain God's mercy when we feel in the wilderness
So we can live in the wilderness because God is merciful, but
Next  notice we can live in the wilderness because of God's help
Psa 63: 7b  Because thou hast been my help
Again David reminds Himself of a glorious truth. That God is his helper in the wilderness. Wasn't He his helper when He was a lowly shepherd boy and when He fought Golaith? Of course He was.
But what is true for David must be true for us too who are Christians. God has been our help. We know this – the countless times God has helped us. Yet as with the truth that God is merciful we often forget that God is our helper. And don't we so often run to all sorts of things or people for help when it's God who longs to help us if we will only ask Him.
 But there is One who is our helper and that is the Lord Jesus Christ. He helps us by giving us His Holy Spirit. He's the one who comes along side and comforts us in our sorrows and times of need. He gives me strength when I am weak. He gives me hope when I feel all is hopeless. He gives me faith when I'm full of doubts and unbelief. So let's believe 
Christ by His Spirit is our helper so we can live in the wilderness.
But next notice we can live in the wilderness because God satisfies Him
v5   My soul shall be satisfied as with marrow and fatness,


Here he uses a picture of marrow – the inside of the bone and fatness to tell us that in the wilderness God has fully satisfied his soul.  He doesn't need anything more. God is his all in all.
And because God is the only one who can fully satisfy our souls, that is our persons we should be satisfied like the Apostle who said, "That in every circumstance he had learnt to be content, wether in poverty or plenty.
But so often we are dissatisfied with our circumstances – we don't like being in the wilderness, we don't do discomfort and suffering and persecution  well. We get angry and grumpy or bitter when things don't go our own way.
But what hope we can have because Christ was satisfied when in the wilderness on the cross He cried, "It is finished." How satisfied He was hanging on that cruel cross for us because He had completed the work His father had sent Him to do in living a sinless perfect life for wretched sinners like us.
Remember what our Lord said to his hearers in;
John 6:35   " I am the bread of life: he that cometh to me shall never hunger; and he that believeth on me shall never thirst.
So let's believe that we shall never hunger or thirst in the wilderness if we believe Christ's promised to be the true bread of life that alone can satisfy our souls as we mediate on Him daily in his word and have fellowship with Him in prayer and as He meets like this now around His word.
So we have seen why can we live in the wilderness? Because our God in Christ is merciful - He helps me – and satisfies me  but all this demands a rightful response on our part. And that is the commitment to worship God.
What did the apostle say to the Roman Christians in his letter to them in response to the gospel he teaches them of in Romans 1-11 ?
Rom 12:1   I beseech you therefore, brethren, by the mercies of God, that ye present your bodies a living sacrifice, holy, acceptable unto God, which is your reasonable service.  (Of worship)
3. We commit ourselves to worship God 
And we do this  in 5 activities of worship; we commit to worship  by; desire, praise, recall and meditate and trust God in Christ
1. Commit to desiring God  - v1
V1a  "O God, You are my God;"


He confesses God is His God, He is in a personal, intmaterelationship with this God. Why?Because His God has entered into a covenant with Him, both as a son but as we shall see at the end of the Psalm as God's king.

When will he seek God?  - Early will I seek You; Why? Because this God is the highest priority in my life. He comes first.
 In  Psalm 5:3   the Psalmist says; "My voice shalt thou hear in the morning, O LORD; in the morning will I direct my prayer unto thee, and will look up.
How does he seek God?
My soul thirsts for You;
My flesh longs for You
In a dry and thirsty land
Where there is no water.


Someone helpful said David uses   "appetite" language. He seeks, He thirsts, He longs for God. In an environment like the desert or a place of drought. And we can relate to this as Stephen said this morning places around us are in drought through lack of water.
Don't we often find ourselves when we are in the wilderness doing the struggling to seek, to thirst and yearn for God – So often we find we have an appetite instead for the world, or our own fleshly desires and the snares of the Devil extinguish any desire we may have had God. 
But there is one who always had an appetite for God.Tthe Lord Jesus was always in prayer because as man He had a desire for His Father. Whole nights he spent desiring God and then seeking His will for grace in his ministry and power of the Devil.
So how can we by faith have this appetite constantly for our God? That we may live with a perpetual hunger and thirst for God?
Remember the glorious promise the Lord gave us in;
John 7:37-38   "In the last day, that great day of the feast, Jesus stood and cried, saying, If any man thirst, let him come unto me, and drink.  He that believeth on me, as the scripture hath said, out of his belly shall flow rivers of living water."
Our worship will always be preceded by our sense of deep need and poverty – poverty because we don't have Christ and the sweet sense of his presence and like the disciples on the road to Emmaus we can say what they said;
Luke 24:32   And they said one to another, Did not our hearts burn within us, while he (Christ) talked with us by the way, and while he opened to us the scriptures?
So we commit to desiring God but next notice
2. We commit to praising God – v3b, 4, 5b -
V 3b Because your mercy is better than life My lips shall praise You.
Didn't the Psalmist say "Whoso offers praise glorifies Me."
V4 Thus I will bless You while I live;
I will lift up my hands in Your name.

v5b And my mouth shall praise You with joyful lips.
So we commit to not only praising God in our worship but;
3rdly We commit to recalling and meditating on God 100
Psa 63:6   When I remember thee upon my bed, and meditate on thee in the night watches.
How often do I remember the Lord on my bed and mediate on him all night. Here the Psalmist refers to the watches in the Temple – like there is a sentry watch in battle or a watch on a ship at see for danger. But so often my mind thinks on the days events or frets or become anxious.
But what does David mediate on? Hasn't He's told us here in his prayer
God's power and glory and His mercy and help and that God satisfies him.
But for us this side of the cross shouldn't we in light of what He has done for us remember His Son Jesus and meditate on Him at night on our beds. It's been said that the words describing love in 1 Cor 13 are a portrait of Christ. Listen as I substitute Christ for the word love.
1Cor 13:4-7  Christ suffereth long, and is kind; Christ envieth not; Christ vaunteth not Himself, He is not puffed up, He Doth not behave itself unseemly, seeketh not his own, is not easily provoked, thinketh no evil; He rejoiceth not in iniquity, but rejoiceth in the truth; He beareth all things, believeth all things, hopes all things, endureth all things.
Lets commit ourselves to recall and mediate on Christ when we are on our beds at night. How transforming this simply act of worship would be for ourselves and how glorifying to Christ.
Why could the great apostle say; "For me to live is Christ…"
Undoubtedly he mediated much on the Christ who had overwhelmed him and conquered his heart.
So we commit to not just recalling and meditating on God but
4thly We Commit to trusting God  
For David it was in judgement – but not for us
Psa 63:9 - 10  But those that seek my soul, to destroy it, shall go into the lower parts of the earth. They shall fall by the sword: they shall be a portion for foxes.
Stephen helpfully explained what this call for judgement meant
when he dealt with in Ps 59:10-13
The Psalmist calls  for vengeance on Israel's enemies.These calls for justice are absolutely right, and they remind us of how important God's holiness and justice are.
But the Psalmists did not have the justice of God completely satisfied in Christ. This side of the cross we are commanded to we pray for our enemies and do them good.
Finally
V 11. But the king shall rejoice in God;
Everyone who swears by Him shall glory;
But the mouth of those who speak lies shall be stopped.
Who is this King? In the first instance it's David writing about Himself. Wasn't he anointed King as a young man? But now much latter as he pens this Psalm he alludes to the fact he is God's anointed King and he rightly rejoices in God because God has kept his covenant promise. Now He's no longer in the desert He is on his throne in his palace as the rightful king of Israel.
But surely this points us to a greater David King even the Lord Jesus Christ who the apostle said of
Philippians  2:5-11
"Let this mind be in you, which was also in Christ Jesus: Who, being in the form of God, thought it not robbery to be equal with God: But made himself of no reputation, and took upon him the form of a servant, and was made in the likeness of men:  And being found in fashion as a man, he humbled himself, and became obedient unto death, even the death of the cross. Wherefore God also hath highly exalted him, and given him a name which is above every name: That at the name of Jesus every knee should bow, of things in heaven, and things in earth, and things under the earth;  And that every tongue should confess that Jesus Christ is Lord, to the glory of God the Father.
V11 Then he says;  "Everyone who swears by Him shall glory."


Do you swear by Christ  as you find yourself in the wilderness. Don't be despondant or downcast friend .We have seen in this great Psalm  why can we live in the wilderness like David did.
Because of Christ's power & glory. His mercy, help & satisfaction
So let's as his people, His Church in response to these great acts and truths of the gospel commit ourselves to worship God in Christ by desiring, praising, recalling meditate and trusting Him. Then we to will be able to not only live in the wilderness like David did but  glory in Christ our king as we do.  Amen