Stephen - Truth at all Costs - Audio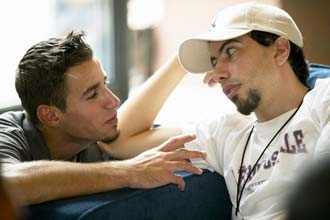 Pastor Dave Cox

The first Christian martyr, noble title. A worthy example as we consider what it takes to follow Jesus in these last days. Stephen was a man of like passions as you. A fallen son of Adam; sinful, but redeemed. What we want to know is what changed him? What made him a martyr?
The truth at all cost, a fair description of Stephen; whether the written word, the word applied by the Spirit or living out that word; Stephen was in every way, a man of the word.
Stephen makes his appearance in Acts 6 , leaves a classic sermon in Acts 7 and then leaves. Not much info but enough to see a life lived for the truth.
Stephen's Emptiness.
Before becoming Stephen the martyr, he had to deny the man he was by nature. There is no detail regarding his background or character or conversion, enough to see what he was empty of.
Self.
A crisis had arisen;
"when the number of the disciples was multiplying, there arose a complaint against the Hebrews by the Hellenists, because their widows were neglected in the daily distribution". Acts 6 : 1.
A suitable solution was found.
"The twelve summoned the multitude of the disciples and said, 'It is not desirable that we should leave the word of God and serve tables. Therefore, brethren, seek out from among you seven men of good reputation, full of the Holy Spirit and wisdom, whom we may appoint over this business; but we will give ourselves continually to prayer and to the ministry of the word'". Acts 6 : 2.
Serving tables was not thought unimportant but potentially distracting. Stephen was happy to take this responsibility. He didn't think it beneath him, didn't covet a more eminent position.
Nor did he refuse the responsibility.
Two things ruin usefulness.
Refusal to accept responsibility, masked by false humility.
Being over generous in your appraisal of yourself. A serious spiritual handicap.
Stephen was a martyr long before he died. A selfless servant.
Fear of man.
Another crippling handicap, this one 'bringeth a snare'. How the mighty have fallen under this.
Peter denied his Lord.
All the Disciples forsook the Lord and fled.
Jeremiah would not prophesy for a time.
King Saul lost the Kingdom and eventually his soul.
"Whatever I tell you in the dark, speak in the light; and what you hear in the ear, preach on the housetops. And do not fear those who kill the body but cannot kill the soul. But rather fear Him who is able to destroy both soul and body in hell. … Therefore whoever confesses Me before men, him I will also confess before My Father who is in heaven. But whoever denies Me before men, him I will also deny before My Father who is in heaven". Matt. 10 : 27-28, 32-33.
Love of the World.
You cannot serve two masters. It must be clear Stephen did not. His focus was the Kingdom of God and His righteousness.
Love of the World and in improper devotion to the things of it will neutralise any usefulness. It could be love for wealth, ministry, happiness, reputation, safety, even family.
An excessive devotion to any of these is another handicap. It will soften zeal, cool love and be a strong, almost irresistible temptation to compromise.
Stephen's Fullness.
This emptying meant Stephen was ready to be filled with better things.
"seek out from among you seven men of good reputation, full of … wisdom,... And they chose Stephen, a man full of faith … And Stephen, full of faith and power, …". Acts 6 : 3, 5, 8.
All the result of another fullness...
The Holy Spirit.
The source of all these. How does one get this fullness?
First, coming to Christ by faith. He who will not obey the gospel call to repent and believe; grieves, quenches and resists the Holy Spirit. Not Stephen, he was not trusting his own righteousness, reputation, wisdom or even faith; he was trusting Christ.
Second, holiness is taken seriously and pursued diligently.
"Walk in the Spirit, and you shall not fulfil the lust of the flesh. For the flesh lusts against the Spirit, and the Spirit against the flesh; and these are contrary to one another, so that you do not do the things that you wish. ". Gal. 5 : 16-17.
Stephen was serious about holiness. He lived in subjection to the word; controlled by the word as applied to his conscience by the Spirit. No sins of commission, no sins of omission.
Third, Stephen must have been a man of prayer. There is no other way to realise this fullness and maintain it. You must humble yourself and ask.
God's Word.
Proven by his own life but also in his excellent use of the word in his sermon. Stephen was:
- Familiar with the whole Bible.
- Knew it's spiritual lessons of sin, repentance and faith.
- Applied to himself first and also, fearlessly, to others.
This fullness of the Spirit and love for the word produced amazing conviction and so courage; to speak as needed, to suffer unto death. Every promise was his to hope for, every precept was his to obey, every word was the voice of God to Him.
"We cannot but be impressed by his fearlessness of man, his courage born of deep conviction, his freedom from Jewish prejudice and his knowledge of the scriptures; also his skill in argument, rhetorical power, spiritual insight and self- command". W. Graham Scroggie.
Love.
Stephen loved the body of Christ, willing to serve wherever. He loved the lost, willing to testify to them. Even the killers of Stephen must have known his reputation as a fair, kind man full of love to God and his neighbour. If they didn't, they were soon to learn of it.
"You stiff-necked and uncircumcised in heart and ears! You always resist the Holy Spirit; as your fathers did, so do you. … your fathers... killed those who foretold the coming of the Just One, of whom you now have become the betrayers and murderers ... who have received the law by the direction of angels and have not kept it... they stoned Stephen as he was calling on God and saying, 'Lord Jesus, receive my spirit.' Then he knelt down and cried out with a loud voice, "Lord, do not charge them with this sin." And when he had said this, he fell asleep". Acts 7 : 51-53, 59-60.
He loved even his enemies enough to warn them. He loved them enough to desire their fellowship in Christ. He loved them enough to intercede for them and their salvation. He loved them enough to forgive them.
Conclusion.
Stephen was in all ways a man of the word. The word was known and studied by him; it ruled his every thought, emotion, action and word. In His weakness he cried to God for help and God was pleased to answer.
Stephen was a man filled with the Holy Spirit; seeking to never quench nor grieve Him and His influence through sin and rebellion. Thus Stephen also knew the fullness of conviction, courage, faith, wisdom, power and love.
This is where the true backbone to serve Christ comes from. Pray God would remove the wishbone and transplant a bit of spine. He did it for Stephen, Peter, Thomas, Paul, James, John and a multitude we do not know by name.
God is no respecter of person, no favourites. What Stephen knew, you can know. Plead with God that, regardless of cost, you would learn to be emptied of self, fear and worldliness. Are you up to it? Have the courage to commit yourself in such a way to God? Will you trust Him?