School of Preaching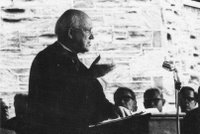 The School of Preaching is an exciting new ministry commencing in October 2009. It's aim is to encourage and inform those who are beginning to preach by providing: 1) outstanding biblical resources in text audio and video format for your instruction and equipping. 2) models of preaching which we trust will also be a help to those more experienced in proclaiming the Gospel of Jesus Christ.
Luke 18:9 by Stephen Curry
Stephen Curry preaches on Luke 18:9.
This text will be replaced
Watch clip as RealPlayer streaming video


How to install Realplayer